Affordable Care Act
THE 2020 OPEN ENROLLMENT PERIOD HAS STARTED AND ENDS DECEMBER 15, 2019
NOTE: CONSUMERS MUST COMPLETE THEIR PLAN SELECTIONS BY DECEMBER 15 AND PAY THEIR FIRST PREMIUM BEFORE JANUARY 1, 2020 FOR THEIR HEALTH COVERAGE TO BECOME EFFECTIVE ON JANUARY 1. WITH FEW EXCEPTIONS, THERE ARE NO OPPORTUNITIES TO MAKE AN OPEN ENROLLMENT PLAN SELECTION AFTER DECEMBER 15, 2019
Open Enrollment Calendar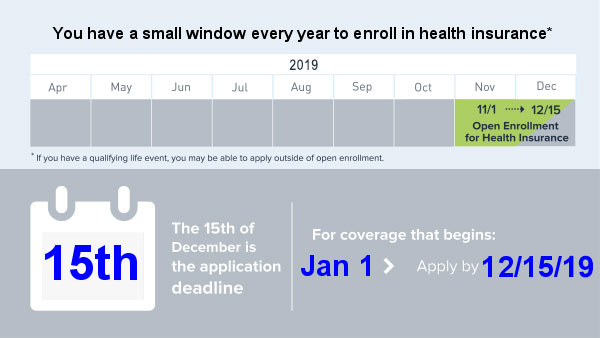 You Might Qualify For A Government Subsidy
Call us now at 1-877-734-3884
Click REQUEST A QUOTE, enter all requested information including the optional information. We'll provide an estimate of your subsidy if you qualify, and also suggest some plans to consider.
You can buy off the exchange if you're not eligible for a subsidy. If we determine that you're not eligible or if you don't provide the optional information when you REQUEST A QUOTE, we'll provide quotes for off-exchange plans.
COMPLETE THE INCOME INFORMATION ON THE QUOTE FORM TO DETERMINE IF YOU'RE ELIGIBLE FOR A SUBSIDY
You Can't Be Declined Because Of A Pre-existing Condition
The Affordable Care Act is complicated and can be quite confusing. Find answers to many of the most frequently asked questions regarding provisions of the law that affect individual and family health insurance.
Note: As a result of our contribution and success during last year's Affordable Care Act open enrollment period, we've been recognized by the Centers for Medicare and Medicare Services (CMS) as a member of the Marketplace Circle of Champions.