Insured Dental and Vision Plans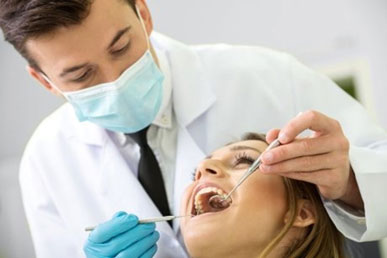 Most of the plans on this site are insured dental and vision plans, but a few discount plans are offered as well.
Choice of many carriers, varying by zip code.
Vision plans can be purchased as stand-alone plans or as add-ons to dental plans. If you want both vision and dental, you should purchase the dental plan and add on the vision plan. This will avoid double enrollment fees, and the vision plan will also cost less than if you buy the plan on a stand-alone basis.
Plans such as the Renaissance Max Choice plan and Delta Dental's Dental for Everyone Immediate Choice plan have no waiting periods (except the Delta Dental plan has a waiting period for orthodontia). Most dental plans have waiting periods for major services (usually 6 months) and for restorative services (usually 12 months).
There's a one-time $35 enrollment fee for these plans.
All prices shown are for monthly premiums.
Most of the carriers offered on this site specialize in dental or vision plans. We also offer dental plans offered by basic health insurance carriers. If you're interested in one of these plans, please call us at 877-734-3884 for more information and to obtain quotes.
NCD DENTAL AND VISION PLANS
A PPO dental plan is offered through Nationwide Insurance (A+ rated) and a vision care plan is offered through VSP (A rated) but cannot be bought directly from the carriers. The dental plan is very competitively priced, and:
Provides three different choices of coverage maximums ($1,500, $3,000, and $5,000). We've never before seen an individual insured dental plan offering coverage limits above $2,500 (an individual buying a $1,500 program can increase the maximum to $3,000 for only an additional $10 per month; and a person buying a $3,000 maximum plan can increase the maximum to $5,000 for only an additional $10 premium, as well);
100% coverage for preventive care; 80% coverage for basic care; and 50% coverage for major care;
Is fully insured and offers first of the following month enrollment;
Has no waiting period for preventive and basic care;
Waives the major care waiting period for those with creditable drug coverage [i.e. those with present or recent (within the last thirty days) PPO or indemnity dental coverage with a tiered schedule of benefits that has at least a $1,000 coverage maximum; see FAQ's 7 and 8 of the Dental plan FAQ's];
Includes coverage for implants and dentures in accordance with the missing tooth provision;
Has an extensive provider network (comprised of the Careington; DentaMax, and Connect Dental networks combined into one large national network); and
Offers out-of-network benefits.
Please see a copy of the dental plan brochure here and the vision care plan brochure here.
The NCD Dental plan is offered in all states except Alaska, Hawaii, Maine, Massachusetts, Minnesota, Montana, New Hampshire, New Jersey, New York, South Dakota, Utah and Washington, while the NCD Vision Care plan is offered in all states except Hawaii, Massachusetts, New Jersey, New York, South Dakota, and Washington. We offer alternative plans in states where NCD plans are not available and can also offer dental plans that cover orthodontia if you are looking for such coverage (NCD does not cover orthodontia).
CALL US AT 877-734-3884 FOR INFORMATION/DETAILS AND TO ENROLL
IN THE NCD DENTAL OR VISION PLANS; TO FIND PLANS THAT COVER ORTHODONTIA;
AND TO FIND PLANS IN STATES WHERE NCD PLANS ARE NOT OFFERED
AMERITAS DENTAL AND VISION PLANS
Ameritas provides dental plans in all 50 states. Ameritas dental and vision insurance plans offer individuals a distinctive portfolio of flexible benefit designs with affordability to meet many needs.
Dental plans include orthodontia coverage through age 18 as well as implant coverage, and coverage maximums can be up to $2,000. There are no waiting periods for coverage, and coverage can be effective as soon as the day after making application. There are no application fees.
Benefits for basic and major services are provided on a graded basis. With a graded benefit, benefits are provided immediately: coverage amounts increase after one year of coverage and with some plans again after 2 years of coverage. Ameritas providers have lower fees than out-of- network providers, so policyholders using Ameritas providers can still obtain significant savings even if they obtain basic and/or major services in their first year of coverage.
Ameritas plans are available in all states. Most states offer "Protect" dental plans, but six states—MD, MO, NH, NY, PA, and WA—offer "Advantage Plus" dental plans. The plans use the same network, but the Protect plans offer coverage on a benefit year basis (i.e. the one- year period starting with the effective date of coverage), whereas Advantage Plus plans work on a calendar-year basis.
Lower premium plans are designed for those who utilize only Ameritas Dental Network providers, whereas plans with higher premiums provide freedom to use any dentist with the opportunity to visit an Ameritas Dental Network provider for additional savings.
Vision plans that use either the VSP or the Eye Med vision networks are offered. VSP plans provide the opportunity to obtain lenses and frames every 12 months (up to a stated maximum), whereas EyeMed plans provide the opportunity to obtain lenses and frames on a 24-month basis (up to a stated maximum).
Click here to find plans available in your area and to enroll on-line. You can use this link to enroll in either or both a dental plan and a vision plan online.