Final Expense Insurance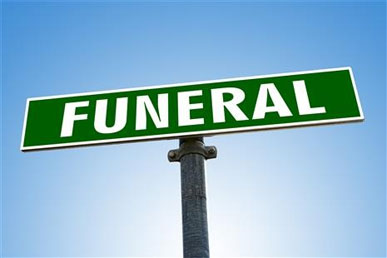 Life Insurance Policies Designed to Pay for Funeral and Burial Expenses
All of us will likely have to face the death of a close family member at some time in our lives. Perhaps you already have - and the painful memories are still there. In addition to grieving the loss and settling your loved one's estate, there's also the immediate concern over funeral and burial costs and how to pay for them. Many of us never think about how our family will pay for our funeral. Few people have the resources to pay for a funeral outright. Without advance planning and funding, your survivors may need to reach into their savings, take out a loan or sell personal assets.
The cost may surprise you. According to the National Funeral Directors Association, the average cost of a funeral nationwide in 2012 (latest figures available) was $8,343, which is a 7% increase over 2010. Moreover, this cost does not include the cemetery plot, monument or marker costs, flowers, obituary and other cash expenses, which could push the cost well over $10,000.
Why burden your family with these costs at a time when they already have many other concerns? With Final Expense Insurance you can help reduce the worry your family will experience when you die by putting the money in place, so that it's available when they need it the most.
Key Features
Low Face Amounts Available: whole life insurance policies with face amounts as low as $1,000 designed to help pay funeral and burial expenses.
Liberal Underwriting: no paramedical or physical exam is required. An application and a phone call with the carrier or a third party vendor is all that's needed. Only in rare cases do carriers ask for additional information.
Fast issue! No hassle!: In almost all cases, you'll be told at the end of the phone call if you qualify for the amount and type of coverage for which you applied.
Three Types of Policies Offered Depending on Your Health Status:
Level (full face value payable immediately);
Graded (percentage of face value payable in first two years and full face amount payable thereafter); and
Modified (no benefit paid for first two years and then full face value payable thereafter). All carriers return principal plus interest if the policyholder dies before becoming eligible for payment of a death benefit under the policy.
Many Carriers Offered: large selection of carriers offered. Each carrier asks different health questions, so this gives greatest flexibility to purchase a policy that you can qualify for and that is most affordable. Because we represent many final expense carriers and have proprietary coverage tables that identify which carriers are best for certain conditions, the vast majority of the policies we write are issued as Level policies.
Issue Ages up to Age 89: Maximum age limit and maximum face amount differ by carrier and type of policy purchased [i.e. immediate (level), graded or modified].
Guaranteed Issue Policies Are Available
Depending on where you live, guarantee issue (no medical questions asked) policies are issued up to age 80.
Please call us at 786-970-0740 (cell) for more information.
Estimate Your Funeral and Burial Expenses
This calculator from Catholic Financial Life is a good tool for estimating funeral and burial expenses. You can use the calculator to determine if you have a shortfall and need final expense insurance.
Please call us at 786-970-0740 (cell) for more information or to obtain a quote.